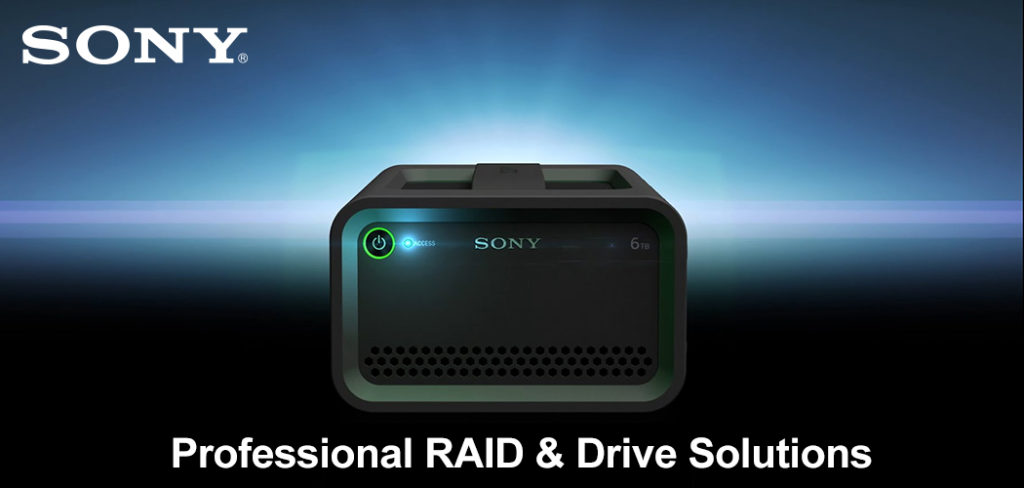 D&P in conjunction with Sony are proud to announce that as of November 1st we are now Sony's appointed partner in Ireland for Sony RME's new Professional HDD Raid & Field Drive line up. Sony's range of portable drives also known as (Field Drive) offers a great option for you on shoot, whether you use USB or Thunderbolt connectivity and offer capacities from 500GB through to 2TB and growing.
The Sony portable drives allow easy stacking and daisy chaining so you can boost your storage capacity, each drive comes equipped with a great Media Management Utility which allows you to shuffle files check the health of your SxS card before reformatting cards. Sony offers you a long warranty (3 years) for total peace of mind. D&P recommended Sony's drives as "Best Buy" given their excellent value for money and most importantly the security of your content offered by the stability of the Sony drives.
Sony's Professional Raid Drives are the next step in the range, these Raided Drives come in two configurations 4TB and 6TB with Raid / Raid 1 and JBOD. Designed for on location shoots and rapid studio editing, the new drives allow users to store large amounts of data with impressive speed at up to 440 MB per second. Workflow efficiency is optimised with a choice of USB 3.0 or twin Thunderbolt 2 interfaces. This new Thunderbolt standard has a maximum throughput of 20 GBP's, making it twice as fast as original Thunderbolt interfaces and up to four times faster than USB 3.0. Ideal for simultaneously streaming 4K video while writing to disc or browsing huge RAW photo libraries without lag.
All of the Sony Drives come with full professional support including a 3 year warranty for free replacement of a faulty product and technical assistance. Unique to Sony is the valuable data recovery service that strives to recover lost or damaged content using cutting edge facilities and techniques*. Supporting media management is the Sony Memory Media Utility software which is included across the range allowing users to view file information, capacity and modes, check disc, SxS card status and smart format features.
As you would expect from Sony these drives are built to the highest possible specification, the drives are extremely robust and underpinned with one of the longest 3yr drive warranties on the market ensuring total confidence for all workflow environments.